In the context of Ramadan fasting 2023, dates donated by the Kingdom of Saudi Arabia were distributed to representatives of all Mosques, this morning, at the Islamic Cultural Centre, in Port Louis.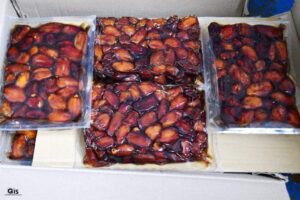 The Kingdom of Saudi Arabia has donated, on 30 March 2023 at the Agricultural Marketing Board in Moka, 35 tons of dates to the Republic of Mauritius, through the King Salman Humanitarian Aid and Relief Centre.
Several Ministers and eminent personalities were present today, namely the Vice-Prime Minister and Minister of Local Government, Disaster and Risk Management, Dr Mohammad Anwar Husnoo; the Minister of Social Integration, Social Security and National Solidarity, Mrs Fazila Jeewa-Daureeawoo; the Minister of Arts and Cultural Heritage, Mr Avinash Teeluck; and Private Parliamentary Secretaries.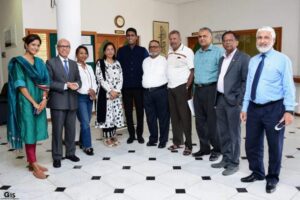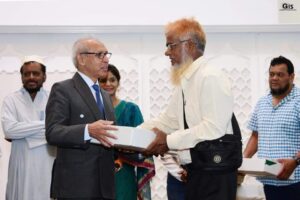 In her address, Minister Jeewa-Daureeawoo acknowledged the efforts and contribution of the Ambassador of the Republic of Mauritius to the Kingdom of Saudi Arabia, Mr Showkutally Soodhun, in facilitating the donation process of dates and to acquire additional permits and visas for 'Hajj', the yearly pilgrimage to Mecca.
For his part, Minister Teeluck said that his Ministry met with the representatives of all Mosques to ensure equal and fair distribution of dates across the country. He expressed gratitude to the King Salman Humanitarian Aid and Relief Centre for the generous donation while highlighting that this act symbolises the good friendly relationship that binds the two countries. This initiative, he underlined, is very meaningful for the Muslim community as dates are used at the time of breaking fast in the Islamic tradition.
He recalled that the donation exercise started in 2008 and has been ongoing since for the past 15 years. Mauritius has received 10 tons of dates by air and will receive the remaining 25 tons by ship, he added.
Minister Teeluck underlined that Government will spare no efforts to promote cultural pluralism in the country across all segments of the society as well as well ensure that festivals take place in the best possible conditions.