The Impact Report 2022 of the NSIF which is geared towards social inclusion and a sustainable society, was launched this afternoon, during a ceremony organised to mark the 5th anniversary of the National Social Inclusion Foundation (NSIF) at the Sir Harilal Vaghjee Hall in Port-Louis. The objective of the Report is to give an overview of the works and achievements of the NSIF as well as its strategic plans to better serve and empower vulnerable families.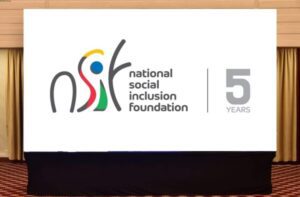 The Vice-Prime Minister and Minister of Education, Tertiary Education, Science and Technology, Mrs Leela Devi Dookun-Luchoomun; the Minister of Land Transport and Light Rail, Minister of Foreign Affairs, Regional Integration and International Trade, Mr Alan Ganoo; the Minister of Social Integration, Social Security and National Solidarity, Mrs Fazila Jeewa- Daureeawoo; the Minister of Gender Equality and Family Welfare, Mrs Kalpana Devi Koonjoo-Shah; the Chairperson of NSIF, Mr Medavy Pillay Munien; the Secretary General of NSIF, Mr Ajay Sowdagur; and other personalities were present

In her address, Minister Jeewa-Daureeawoo, said that the report is an important tool as it gives a resume of NSIF accomplishments over the years as well as its vision, mission, and priorities for a socially more inclusive society.
She highlighted that the creation of NSIF was an initiative of the Government announced in budget 2016-2017 to build a socially inclusive society and to ensure fair and equitable distribution of funds to Non-Governmental Organisations (NGOs). The NSIF, she highlighted, plays a vital role in combating poverty in the country while indicating that some 20 000 persons benefit annually from financial support under the NSIF.
The fight against poverty is one of the top most priorities of the Government, she pointed out, adding that combating poverty should be included in the economic development plan of the country. She also dwelt on a holistic and multidimensional approach to work for the welfare of citizens.
In addition, Minister Jeewa-Daureeawoo spoke of unprecedented measures undertaken during the COVID-19 pandemic to support needy citizens including the Wage Assistance Scheme and the Self-Employed Assistance Scheme. The combat against poverty is not possible without the collaboration of the public, private and civil society, she emphasised. She therefore thanked all stakeholders for their continuous support and called on their collaboration to build a fairer and stronger Mauritius.
For his part, Mr Munien gave an overview of the journey of the NSIF since its creation in 2017, while highlighting that the NSIF has contributed to the employment of some 3 000 persons annually and has invested massively in education.
The Chairperson expressed his gratitude to all those who have contributed to the success of the NSIF and reiterated NSIF's engagement to continue to work for the vulnerable and the welfare of the country.