Government will continue to strive for the welfare of the fishermen community and is accelerating efforts to ensure that more fishermen receive their registration cards as earliest as possible. In this context, open days will be held on Monday 20 March and Tuesday 21 March 2023 from 08:00 to 18:00 for fishermen to register themselves.
This announcement was made by the Minister of Blue Economy, Marine Resources, Fisheries and Shipping, Mr Sudheer Maudhoo, this afternoon, during a press conference held at the seat of his Ministry in Port Louis.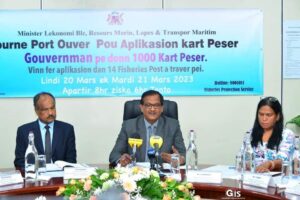 Minister Maudhoo further highlighted that this initiative was one of several governmental measures to help reach the target of allocating 1,000 fishermen cards, thus reducing the long waiting list for the allocation of these cards.
"Registered fishermen," he remarked, "will benefit from various schemes offered by the Fishermen Welfare Fund." These include: scholarships for fisher's children; allowance of Rs 5,000 to repair damaged boats; financial support to fisher's families in distress; and funeral and maternity grants, amongst others.
"Budget 2022/23," Mr Maudhoo stressed, "has introduced several measures to ease the lives of fishermen such as provision of an additional 2,000 handheld VHF radios; the 'Canotte Scheme', which consists of a grant representing 50% of the cost of a fibre glass fishing boat and engine up to a maximum amount of Rs 200,000; allocation of Rs 5,000 per fisher for the purchase of materials to assemble fish traps; a financial assistance of Rs 2,500 for the purchase of hooks; and allocation of a bad weather allowance of Rs 575 daily." For him, these measures were testimony of Government's commitment to support the fishermen community.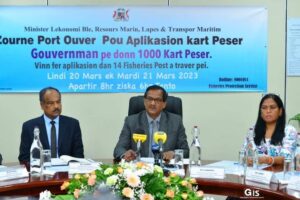 As regards application for the fishermen registration cards, the Minister indicated that the open days would be held in 14 Fisheries Posts around the island, notably: Baie du Tombeau; Trou aux Biches; Grand Gaube; Poudre d'Or; Trou d'Eau Douce; Poste Lafayette (applications will be done at Pandit Mansaram Hall in Poste de Flacq due to renovation of the Poste Lafayette Fisheries Post); Grande Rivière Sud Est; Bambous Virieux; Mahebourg; Riambel/Baie du Cap; Case Noyale; La Preneuse; Pointe aux Sables, and Port Louis Head Office.
Furthermore, the Fisheries Minister elaborated on the documents and criteria required to apply for these cards, namely: National Identity Card; Birth Certificate; Proof of Address; and Certificate of Character of less than one year.
Also, applicants need to apply in person, be in good health and must not be an employee or have any business registered in their name.
The Minister further talked of the introduction of three new criteria for fishers' registration namely that they were required to know how to swim, to have two registered fishers vouch for their fishing experiences and be 18 years old or more. "Priority for the acquisition of these cards is being given to applicants who have been on the waiting list for many years," he said.
As regards the training offered prior to becoming a registered fisherman, Minister Maudhoo explained that while youngsters joining the fisheries sector would have to undertake a six-week General Course for Fisher, the training period for non-registered experienced fishermen was eight days. "In addition, participants will be offered a stipend of Rs 300 per day during the training," he pointed out.
"The objective of the General Course for Fisher," Mr Maudhoo underlined, "is to provide fishermen with the appropriate knowledge, skills and aptitude to fish responsibly, efficiently and safely around Fish Aggregating Devices (FADs) in the open sea." FADS are structures set about five to eight nautical miles offshore to optimise catches by attracting big fishes.
The Fisheries Minister acknowledged that the job of a fisherman was perilous and dwelt on the difficulties faced by fishermen, which is why according to him, many persons were not eager to join the sector.
He therefore called on the youth to submit their application for fishermen cards and contribute to the fisheries sector. The Minister reiterated Government's commitment to support the fishermen community through measures to ensure their security as much as possible such as with the provision of life jackets and other safety equipment to be used while fishing.