The Apostolic Nuncio to the Republic of Mauritius, Archbishop Tomasz Krzyszt of Grysa, met the Prime Minister, Mr Pravind Kumar Jugnauth,on Tuesday 25 April 2023, at the New Treasury Building in Port-Louis.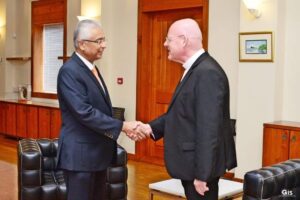 Archbishop Grysa is on an official visit in Mauritius from 24 to 29 April 2023, following his nomination as Apostolic Nuncio to the Republic of Mauritius by Pope Francis on 21 March 2023.
In a statement, Archbishop Grysa indicated that the meeting with the Prime Minister was cordial and fruitful. He underlined the rich multi-cultural pluralism and social cohesion that reigns in Mauritius while highlighting the need to continue to maintain unity and brotherhood in the country.
Earlier during his stay, Archbishop Grysa presented his credentials to the President of the Republic of Mauritius, Mr Prithvirajsing Roopun. He will also be visiting Rodrigues tomorrow.
Archbishop Tomasz Krzysztof Grysa
Born in Poznań in Poland in October 1970, the newly appointed Apostolic Nuncio to Mauritius was ordained a Priest on 25 May 1995. The graduate in Canon Law who speaks French, English, Italian, Portuguese, Russian, and Spanish entered the diplomatic service of the Holy See on 1st July 2001.
Archbishop Grysa has previously served in various Apostolic Nunciatures, including the Russian Federation, India, Belgium, Mexico, Brazil, Israel, and Palestine.
He also served as the first Counselor at the Holy See Mission to the United Nations for three years and, likewise, in the same capacity at the Apostolic Delegation of the Holy See in Jerusalem.
Archbishop Grysa is, as well, currently assuming duties as Apostolic Nuncio to the Republic of Seychelles and the Republic of Madagascar, and as Apostolic delegate to the Union of the Comoros.