The Ambassador of the Islamic Republic of Iran to Madagascar, Mauritius and Seychelles, Mr Hassan Ali Bakhshi, presented his Letters of Credence to the President of the Republic of Mauritius, Mr Prithvirajsing Roopun, this morning, at the State House, in Réduit.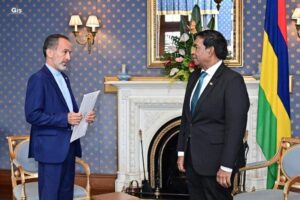 In a statement, Ambassador Bakhshi highlighted that the meeting with the President was very cordial. Discussions, he indicated, focused on the current situation regarding the Russia-Ukraine war, as well as on ways to further strengthen the bilateral relations between Mauritius and Iran.

The meeting also focused on mechanisms to reinvent cooperation between the two countries for the welfare of their people, added the Iranian Ambassador.