The bravery, commitment, dedication and sacrifices of firefighters in ensuring the safety of communities and environment were highlighted, today, by the Vice-Prime Minister (VPM), Minister of Local Government and Disaster Risk Management, Dr Mohammad Anwar Husnoo, at the Coromandel Fire Station. He was speaking at an event held to mark the International Firefighters' Day observed annually on 04 May.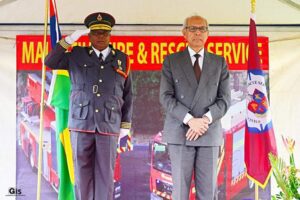 A wreath-laying ceremony and a sound off of fire sirens also marked the event and to pay tribute to firefighters who lost their lives while serving the community.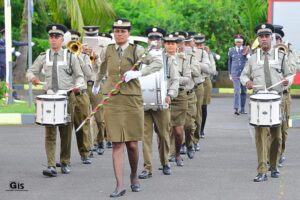 Addressing the firefighters, VPM Husnoo conveyed his support and appreciation for their difficult task in saving the lives of people locally and globally. The International Firefighters' Day, he indicated, acknowledges the value of firefighters as well as pays tribute to the memory of firefighters who sacrificed their lives while on duty. The Day, he emphasised, also offers an opportunity for the public to learn more about the duties of firefighters and the equipment they use in their daily tasks and to raise awareness about the dangers they brave.
Dr Husnoo reiterated the commitment of Government in providing the Mauritius Fire and Rescue Service (MFRS) with the necessary financial resources and support to develop its human potential and modernise its physical and organisational structure. To that end, he spoke of the construction of new Fire Stations at Goodlands and Montagne Blanche which are due to start in a couple of months.
Other projects elaborated by VPM Husnoo include the relocation of Quatre Bornes Fire Station at Avenues Des Tulipes for better access to the road network for timely intervention and the implementation of another new Fire Station at Jin Fei which will be undertaken in phases.
Highlighting governmental investments in the last financial year to equip the MFRS, he spoke of the provision of 20 Firefighting and Rescue vehicles including three Foam water tenders; 13 Trailer mounted Flood Pumps; one Hazmat vehicle; two Crane Lorries; one Swift Water Vehicle with inflatable boat; one Articulated Hydraulic Platform (AHP) 55mts; and nine Double Cab vehicles. New sets of radio communication equipment are also being acquired to modernise the communication's infrastructure at the MFRS, he added.
International Firefighters' Day
The Day pays homage to current and past firefighters for their contributions to the society. The fourth of May marks the feast day of Saint Florian, the Patron Saint of firefighters. It has been declared as the International Firefighters' Day since 1999 following the deaths of five firefighters in tragic circumstances in a wildfire in Australia.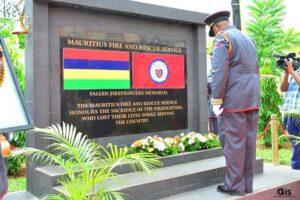 For International Firefighters' Day, after the inaugural sound off in 2002 which was conducted to reflect on the commitment and sacrifices of firefighters worldwide for emergency service workers, there is an annual Sound Off on the fourth May of every year.