The Minister of Gender Equality and Family Welfare, Mrs Kalpana Devi Koonjoo-Shah, made an appeal for a greater participation of women at the celebrations of the International Women's Day (IWD), which will be held in the presence of the Prime Minister, Mr Pravind Kumar Jugnauth, on 05 March 2023, at the Swami Vivekananda International Convention Centre, in Pailles.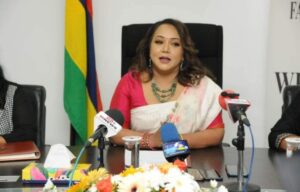 Mrs Koonjoo-Shah was speaking at a press conference held, today, at the seat of her Ministry, in Port-Louis, in the context of the forthcoming IWD, which is annually commemorated on 08 March since 1975.
The 2023 theme retained by the United Nations is DigitALL: Innovation and technology for gender equality; while the Ministry of Gender Equality and Family Welfare has retained: "Madam dan enn lemond dizital: inklizion, egalite, oportinite", as theme.
Minister Koonjoo-Shah indicated that the IWD is an occasion to valorise the significant contribution of women and young girls adding that they are the backbone of the Mauritian economy. She further dwelt on the progress, achievements and resilience shown by women over the decades.
The IWD, she stated, is a Day to reiterate Government's engagement towards safeguarding the rights of women and young girls and to accelerate our efforts to bring more equality in the society. It recognises the efforts of the women and the girls who are championing the advancement of transformative technology and digital education, she added.
The theme, she pointed out, proposes a gender-responsive approach to innovation, technology and digital education which can contribute to increasing awareness of women as regards their rights and civic engagement.
In addition, Minister Koonjoo-Shah underlined that innovation and technological change, education as well as sensitisation, are key to better protecting the rights of women and empowering them. She, however, cautioned of the existing dangers related to the digital world while highlighting that the Ministry is working in close collaboration with authorities to sensitise women and to promote prevention.