The outgoing Permanent Court of Arbitration's (PCA) Representative in Mauritius, Ms Andrea Lapunzina Veronelli, paid a farewell call on the Attorney General and Minister of Agro-Industry and Food Security, Mr Maneesh Gobin, today, at the seat of his Ministry in Port Louis.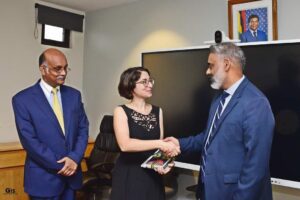 The Attorney General seized the opportunity to thank Ms Andrea Lapunzina Veronelli for her dedication during her four-year tenure in Mauritius as representative of PCA.
The outgoing PCA Representative will be based at the PCA Headquarters in The Hague in the Netherlands and will be succeeded by Ms Balla Galma Godana in Mauritius. Mr Gobin reiterated that all necessary support and collaboration will be provided to Ms Balla Galma Godana as the new incoming PCA Representative in Mauritius.