The urgency to protect the environment and the necessity for everyone to do their part in the fight against climate change and global warming were highlighted by the President of the Republic of Mauritius, Mr Prithvirajsing Roopun, on Friday 10 February 2023, during the inauguration of a 'Full collection of bird photos and movies exhibition', at the Natural History Museum in Port Louis.
The Minister of Environment, Solid Waste Management and Climate Change, Mr Kavydass Ramano, and other personalities were also present at the event.
The exhibition features the photos and videos of birds by conservationist, ornithologist, and wildlife photographer, Mr Narainsamy Ramen and his collaborators. Born in Mauritius, Mr Ramen left the country at the age of 17 for the United Kingdom where he, among others, joined the Royal Air Force in the 1970s as an aerial photographer.
In his address, the President stated that through the exhibition, visitors of the Natural History Museum, especially students, as well as foreigners, would now have the chance to discover the rich avifauna of Mauritius and of the Indian Ocean. "This photo and video exhibition of the rich avifauna of the Indian Ocean also raises awareness about the biodiversity of our island," he said.
Commending the hard work of Mr Ramen in putting up the exhibition, President Roopun recalled that the latter, a member of the Mauritian diaspora, had published a number of books on birdlife, and contributed in various articles, including the two volumes publication: 'Birds of the Indian Ocean'.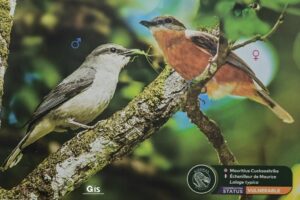 Moreover, the President indicated that the expertise of Mr Ramen was roped in with regard to the protection and breeding of bird species and tortoise at the State House, as well as the upgrading of their living environment. "With Mr Ramen's advice, we have been able to witness the birth of six new peachicks," affirmed Mr Roopun.
Furthermore, the President invited members of the Mauritian diaspora to reconnect with their motherland, just like Mr Ramen. "The Republic of Mauritius is proud of the achievements and success of its vibrant diaspora around the world: they are a precious national asset to our economy and can contribute in bringing new perspective through transfer of skills, experience, knowledge and capacity building," he stressed.