The Prime Minister, Mr Pravind Kumar Jugnauth, made a strong plea, yesterday, in Port Louis, for the population to adopt a culture of health to enhance their well-being, improve their quality of life and increase their productivity.
The Prime Minister was addressing residents of Vallée Pitot and its vicinity in the context of the inauguration of a 600-metres health track and an open gym at Fort Adelaïde (La Citadel) in Port Louis. Mr Jugnauth called on residents of the vicinity as well as the citizens of Port Louis to make the most of the new Citadel health track and open gym, which he deemed, was located in a unique setting, with a historical background and spectacular view over the City.
The Vice-Prime Minister, Minister of Local Government and Disaster Risk Management, Dr Mohammad Anwar Husnoo; the Minister of Environment, Solid Waste Management and Climate Change, Mr Kavydass Ramano; the Acting Lord Mayor of the City of Port Louis, Mr Daniel Georges Jean Augustin; Members of Parliament; and other personalities were present, too, at the inauguration ceremony. The project at Fort Adelaïde had been funded under the National Environment and Climate Change Fund which ensures funding of projects that take into consideration climate change needs as a criterion.
In his speech, the Prime Minister detailed the data presented in the Non-communicable disease (NCD) survey 2021. He decried the high prevalence of diabetes and pre-diabetes which stood respectively at 19.9% and 15.9% for Mauritians aged 25 to 74 years; the prevalence of high cholesterol at 34.8%; the smoking rate at 18.1%; and the prevalence of harmful consumption of alcohol which was at 15.4%. He also expressed his concerns that 72.2% of the participants of the survey were classified as overweight or obese.
On the basis of these figures, Mr Jugnauth urged Mauritians of all ages to engage in a healthier lifestyle such as eating a balanced diet, doing regular physical activity; quitting smoking and avoiding excessive alcohol consumption. "It is within this perspective that Government was providing access to free, open to all, and convenient infrastructure across the country, such as outdoor gym and health tracks, to encourage people of all ages to undertake physical activity," he stressed.
On that score, the Prime Minister informed that the health track at Fort Adelaïde was part of a series of sports amenities being built or renovated for the physical and mental well-being of the population. He stated that similar facilities would be available in Souillac, Mont Ida, Crève Cœur, Camp Ebène, and Le Dauguet, among others.
The critical importance of maintaining cleanliness on site and across the country was moreover highlighted by Mr Jugnauth. Deploring the amount of dumping and littering, the Prime Minister appealed to citizens to act more responsibly, to keep public areas as clean as their home, and to stop throwing their trash out of their car windows.
Furthermore, the Prime Minister reiterated Government's commitment to work effectively for a greener Mauritius namely through various cleaning campaigns, replacement of trees cut down during development project, embellishments along the road networks, and reforestation initiatives. He thus spoke of the various endemic trees that had been planted around Fort Adelaïde and encouraged the population to grow fruit trees which, he said, would have positive impacts both for the environment and food security.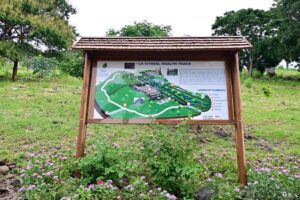 For his part, the Minister of Environment, Solid Waste Management and Climate Change underscored that the project at Fort Adelaïde was in line with Government's vision for a cleaner and greener Mauritius, and the objective to encourage people to practise regular physical activities, thereby helping to improve their physical and mental health.
He was adamant that the goal was to create pleasant, attractive and functional outdoor environment, landscaped with endemic plants and equipped with relevant training stations. Mr Kavydass Ramano thanked the numerous Ministries and institutions as well as non-governmental organisations that were contributing to such projects for the welfare of the population.