The Ministry of Environment, Solid Waste Management and Climate Change, organised, yesterday, the Environmental Awards 2023 to commemorate the World Environment Day (WED) 2023, at the Caudan Arts Centre in Port-Louis.
World Environment Day is celebrated annually on 05 June. The theme retained for this year is "Solutions to Plastic Pollution" and the campaign for WED 2023 will use the hashtag and slogan #BeatPlasticPollution.
The President of the Republic of Mauritius, Mr Prithvirajsing Roopun, the Minister of Environment, Solid Waste Management and Climate Change, Mr Kavydass Ramano, and other eminent personalities were present on this occasion.
In his keynote address, President Roopun highlighted that this award is designed to recognise and honour the efforts and innovative practices of various public and private institutions having made outstanding contributions to the preservation and protection of Mauritius' natural heritage. "Such an event has become imperative in order to promote a more ethical way of living, advocate a more sustainable use of our resources, encourage recycling and re-use while combating wastage," he pointed out.
Moreover, President Roopun observed that this year marks the 50th anniversary of the WED and added that the theme chosen underscores the need for transformative action from everywhere around the world so as to reduce the heavy burden of plastic pollution on people's health and the threat it poses to the environment and wildlife.
As regards climate change, Mr Roopun indicated that Mauritius, despite being a Small Island Developing State with limited resources and unique geographical challenges, has taken bold commitments regarding greenhouse gas emissions, the energy mix as well as the adoption of a coherent economic transformation and energy transition.
For his part, Minister Ramano recalled that his Ministry, in collaboration with various stakeholders, launched the Environmental Awards 2023 competition on 10 April 2023 in order to promote the implementation of green initiatives in Mauritius. He emphasised that eleven sectors were selected on the basis of their importance and the relevance of their contribution to the environmental sustainability of Mauritius.
Minister Ramano further stated that humanity is facing a triple global crisis: climate change, biodiversity loss, and pollution. According to the United Nations Environment Programme, he underlined, these 'three planetary crises' are causing further damage to the environment and to our health. He also seized this opportunity to congratulate the winners for their remarkable work and encouraged them to carry on making efforts in the national drive for ecological transition.
The Environmental Awards 2023
The Ministry of Environment, Solid Waste Management and Climate Change organised this Awards Ceremony for the celebration of World Environment Day in Mauritius. The awards aim to recognise and publicise the best environmental initiatives of local institutions and encourage similar future endeavours for a cleaner, greener, and safer Mauritius. For this first edition of the Environmental Awards, a total of 149 entries was received and a panel of independent judges was set up for each sector to assess the entries.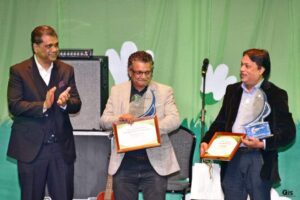 Eleven thematic sectors were retained, namely: textile manufacturing industry; food manufacturing industry; supermarkets/hypermarkets; media; Non-Governmental Organisations; waste and resource management; financial; tourism; local authorities; public sector and; educational institutions. Awards were remitted as follows:
Food and Beverage Manufacturing
Winners: Phoenix Beverages Ltd and, Foods Worth Ltd;
First Runners-Up: Omnicane Limited and, V. Kaunhye Health Foods Ltd;
Second Runner-Up: Avipro Co. Limited.
Best Sustainable Tourist Accommodations & Hotels
Winners: The Good Life and, La Pirogue Hotel;
First Runners-Up: Aurelia Lodge and, Zilwa Attitude;
Second Runners-Up: West Sand Ltd, Cannonier Beachcomber and, Heritage Awali Golf & Spa Resort.
Textile Manufacturing Industry
Winners: Ferney Spinning Mills Ltd, and International Trimmings and Labels (M) Ltd Mauritius;
First Runner-Up: Laguna Clothing (Mtius) Ltd.
Non-Governmental Organisations
Winners: Mauritius Wildlife Foundation and, F.A.L.C.O.N Association;
First Runners-Up: Association pour le Développement and, Mission Verte;
Second Runners-Up: Coral Garden Conservation and, New Invaders Club.
Local Authorities
Winner: The City Council of Port-Louis;
First Runner-Up: The District Council of Moka;
Second Runner-Up: The District Council of Black River.
Public Sector
Winner: Airport of Mauritius Co. Ltd;
First Runner-Up: Mauritius Telecom;
Second Runners-Up: Central Electricity Board and, Small Farmers Welfare Fund.
Media/Journalism
Winner: Miss Jenna Ramoo from Le Dimanche l'Hebdo/Défi Media;
First Runner Up: Mauritius Broadcasting Corporation.
Waste and Resource Management
Winners: Sofap Ltd and, Bronze Brothers Ltd;
First Runner-Up: BEM Recycling;
Second Runner-Up: Morivert.
Banking/Finance Sector
Winners: Cim Financial Services Ltd and,
Mauritius Commercial Bank Ltd;
First Runner-Up: Hong Kong & Shanghai Banking Corporation Ltd;
Second Runner-Up: AfrAsia Bank Ltd.
Supermarkets & Hypermarkets
Winners: Udis Ltee – Super U Flacq and, Panagora Marketing Ltd;
First Runner-Up: Pick & Buy Victoria Ltd.
Educational Institutions
Winners: Ming Tek Kindergarten, Grand Sable Government School, Northfields International School and, Université des Mascareignes;
First Runners-Up: On the Rock Preschool, Roche Terre Government School, Loreto College Curepipe and, Honoris Educational Network;
Second Runners-Up: Petit Raffray Government School and, Royal College Port Louis.