The sixth meeting of the National Road Safety Commission was chaired by the Prime Minister, Minister of Defence, Home Affairs and External Communications, Minister for Rodrigues, Outer Islands and Territorial Integrity, Mr Pravind Kumar Jugnauth, on Friday 04 August 2023, at the Treasury Building in Port-Louis in the presence of several Ministers.
The National Road Safety Commission was set up in May 2016 to oversee and implement road safety strategies.
In a statement, Prime Minister Jugnauth underlined that the purpose of the meeting was to take stock of the current situation as regard road safety problems and to come up with concrete measures to address the issues. He attributed the numerous road accidents to the reckless and careless behaviours of road users such as speeding, consumption of alcohol, intake of drugs and poor attitude on the road. "A collaborative approach is prerequisite to address the road safety problem in Mauritius," he underscored.


The Prime Minister thus announced that Government would carry out a national sensitisation and prevention road safety campaign as from October to December 2023 to better educate the population, in particular pedestrians and drivers, on the need to be vigilant and to abide by traffic laws at all time. He made an appeal to each and every one to collaborate towards the success of the campaign to ensure the safety of all road users.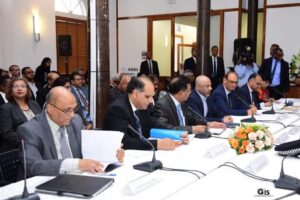 Furthermore, Mr Jugnauth observed that from 2017 to 2022, a decrease in fatal accidents was registered. Nevertheless, he remarked that the number of vehicles on the road had significantly increased over the years. He deplored too that statistics showed that from January to August 2023, 36% of two wheelers were implicated in fatal road accidents; 37% were pedestrians; and that almost 60% of accidents occurred during the night. He seized the occasion to express his deepest sympathy to the families of victims of road accidents.
Moreover, the Prime Minster dwelt on governmental measures as regard the enhancement and strengthening of existing laws and regulations to improve road safety and reduce the number of road fatalities.
Speaking on the implementation of the Metro Express Project, he pointed out that there were new traffic regulations that road users should abide by. He urged the population to pay attention to these regulations and road directives, stressing the necessity to adapt to infrastructure development and changes while remaining safe on the roads.
Prime Minister Jugnauth therefore exhorted the population to be vigilant and adopt a good and healthy road safety culture. He reassured that Government was monitoring the situation, and was evaluating factors contributing to accidents so as to take appropriate measures as and when required, and ensure the safety of all road users.