The Prime Minister, Mr Pravind Kumar Jugnauth, participated, this morning, in a wreath-laying ceremony in remembrance of the victims of the flash floods that occurred in Port-Louis on Saturday 30 March 2013.
A solemn religious ceremony was held at the Remembrance Stele at the Port-Louis Waterfront (Entrance of Underpass South) and wreaths were laid by the family members of the victims as well as the personalities present, including the Lord Mayor of the Municipal City Council of Port-Louis, Mr Mahfooz Moussa Cader Saïb and the Member of Parliament, Mrs Marie Joanne Sabrina Tour.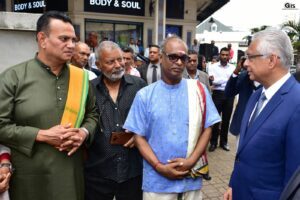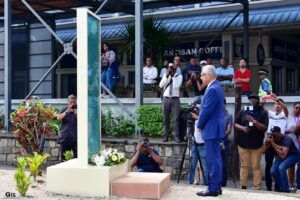 It is recalled that eleven persons died during the flash floods, namely six at the Underpass near Rogers House, two in the Harbour Front Car Park, one at La Chaussée Street, another one along La Poudrière Street, and a lady who reportedly passed away due to emotional shock at Canal Dayot.