The Prime Minister, Minister of Defence, Home Affairs and External Communications, Minister for Rodrigues, Outer Islands and Territorial Integrity, Mr Pravind Kumar Jugnauth, received, this afternoon, at the New Treasury Building, in Port Louis, the Secretary General of the Bid Committee for World Expo 2030 Busan, Korea, and Special Envoy of the President of the Republic of Korea, Mr Sang Jick Yoon.
The Korean Special Envoy, affirmed, in a statement, that discussions with the Mauritian Prime Minister focused mainly on the candidature of the Korean port city, Busan, to host the World Expo 2030.
It is recalled that the host country of World Expo 2030 will be elected by the Bureau International des Expositions (BIE) Member States at the 173rd General Assembly scheduled for November 2023, on the principle of one country, one vote.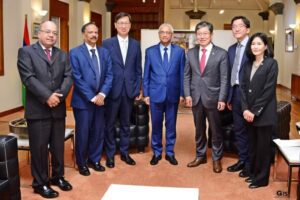 The BIE is the intergovernmental organisation in charge of overseeing and regulating World Expos, since 1931, and Mauritius has been a Member since 2008. Three candidatures will be considered to host World Expo 2030 namely the Republic of Korea (for Busan), Italy (for Rome), and Saudi Arabia (for Riyadh).
Furthermore, according to Mr Sang Jick Yoon, Prime Minister Jugnauth stated that Mauritius would be hosting the first Korea – African Countries Summit Meeting in May next year, which he expects would result in fruitful outcomes. Free Trade Agreements, bilateral collaboration and the potential of the ocean economy for economic growth and job creation also featured in the talks between the Korean Special Envoy and the Prime Minister.